Section 102.2.1 Rule Change Enactment
Rules go into effect 30 days after being posted on the IKF Website.
2021 IKF Rulebook
The IKF Rules and Rulebook are for the exclusive use of, and participation in, IKF sanctioned facilities, series, and events. By opening the Rulebook, you agree to abide by all terms and conditions contained within concerning its use and distribution.
---
2020 RULE UPDATES
October 12, 2020
All IAME Engines will use current SKUSA rules for the 2020 Sprint Grand Nationals.
---
2019 RULE UPDATES
July 10, 2019
Briggs & Stratton 206 Clutch Clarification (Non-Impacting) – It was brought to our attention that a clutch system recently released on the market was being sold as being approved by Briggs & Stratton Racing.  This clutch, called the 'snap yo neck' was never approved by Briggs and Stratton Racing and is non-compliant to the Briggs & Stratton 206 rule set.
To prevent any future marketplace confusion we will be working with original clutch OEM's and publishing a list of approved clutches which will remain locked for a period of time.  This will help to insure stability and cost-effectiveness, two key cornerstones that are fundamental to this program.
---
May 22, 2019
201.6 Rear Bumper: NOTE: All karts must be equipped with a rear bumper to protect the driver and kart from rear impact and to keep a following kart from reaching the rear tires. The bumper may be either CIK style plastic "rear wheel protection" or steel tube of a double bar design. REAR BUMPER – CIK STYLE SIDE VIEW TOP VIEW REAR VIEW All dimensions in millimeters (mm) = Vertical Surface 0º/-5º min: 200 min: 25 max: 60 min: 1340 max: overall rear width in all conditions min: 100 min: 200 min: 200 min: 15 max: 50 Homologated dim. min: 620 max: 700 min: 200 max: wheel diameter 210 ± 15 R 100 mini max: 400 The bumper shall extend to at least the center of the rear tires. The ends of the bumper shall not extend beyond the outside of the rear tires, except in a declared rain race. See 200.2.2
201.8 4-Cycle Sprint Bodywork: All 4 Cycle sprint karts must use bodywork as specified in 201.9. Rear bumper may extend beyond the rear wheels by a maximum of 1" on each side.
201.9.5 If any bodywork becomes dislodged while kart is on the track, the kart/driver will be shown a Meatball flag, 109.5, (black with orange ball) and must immediately exit the track to the pits. Driver will be scored as a mechanical DNF for that segment of the event and he may repair his kart and continue in later segments without additional penalty. All bodywork must be intact and in correct position at Technical Inspection at the end of the competition segment. Failure to heed the mechanical black flag will result in the kart/ driver being shown the Black Flag, 109.4, with associated penalties.
---
May 2, 2019
Add to: 105.2.1.4
The loss of a wheel during any on-track session will result in a penalty. Loss during practice will result in the loss of practice for the balance of the day. Loss during a competition session will result in a 10-position grid penalty in the next competitive session or disqualification in the final. Determination of cause of loss by technical officials is final and not protestable.
---
April 8, 2019
105.1.6.3.5 Neck Collars:
Adult classes – optional
Junior classes – as specified in section.
---
April 2, 2019
105.1.6.3.9 Cameras
All cameras are to be mounted safely to kart, preferred location is front panel, but other locations are permitted if approved by Technical director. Cameras are NOT permitted on sidepods, radiator or on drivers' person or helmet. Cameras lost on track will be impounded and returned after last competition session.
---
March 14, 2019 – Briggs & Stratton 206 "Pump 2019" – Non-Impacting.
---
February 22, 2019
Section 206.2 Replaced by:

Transponder: Transponder shall be mounted per CIK positioning — on back of seat at a height of 25cm +/- 5cm.
---
February 19, 2019 – Briggs & Stratton 206 Engine Rule Update – Non-Impacting.
2018 RULE UPDATES
28 January 2018
Section 105.1.6.3.5 Add as last sentence: In Senior Classes in the Sprint Division (Section 200), the use of neck braces and neck collars is optional.
Section 301 Road Race Grand National Championship Classes

Class #1 change to:

FKE 1 – 100cc Open 80/85cc Gearbox 370
100cc Clutch Enduro 400
100cc Clutch Spring 360
Class #1 FKE -1 & Class #2 FKE -2 Fuel – change to read: GAS/OIL

Add to Section 721- g. A tech official may use additional means of measuring components to compare against a known stock part.
Add to Section 721.3 A racer MUST start each race with the air filter properly attached but will NOT be penalized if the air filter falls off during the race. It is still subject to tech.
Change Section 721.4.1 Gasoline no greater than 94 Octane is recommended. Specific gravity and hydrometer testing are acceptable tests when used in accordance to sanctioning body guidelines.
Add to Section 721.5 NO alterations allowed unless stated below. ALL intake manifold fasteners to remain factory stock. The use of studs, etc. are illegal.
Add to Section 721.17 Factory machining marks left on the head gasket surface IS a tech item.
Add and change to Section 721.9.3 change .185″ to .183″
Add to bottom line of Section 721.9.3 Push rod diameter to be checked 3 points along the length and must pass two planes on each 360 degrees of rotation.
Change Section 721.8.2.4 to Recommended .014" to .016″. Air gap is a non tech item.
Add to Section 721.8.2.5 Temperature thermocouple permitted as long as sealing washer and/or air guard are not modified.
Change Section 721.8.2 30 degrees BTDC to 26 degrees BTDC
Add to Section 721.8.2 With air gap set at .016". See figure 721.8.2.
Static Check for Timing:Install a degree wheel or a Degree meter using a positive stop method.
With the left edge of the first magnet aligned with the start of the lead leg of the ignition (refer to photo figure 721.8.2), the engine must not exceed 26 degrees with air gap set at .016″. Timing is checked in the direction the engine operates.
Add to Section 721.23 after shoes. Clutch must be used as shipped from the ORIGINAL manufacturer. Mixing of parts between clutch lines or manufactures or removing parts (ie. Grease guard, etc.) is ILLEGAL. No alteration to clutch allowed except springs, driver, driver conversion, clutch key, and crankshaft fastener kit, which are non-tech.Clutch coolers are not allowed.
Add Section 721.23.1 Clutch drums must be stamped single-piece steel only. Clutch hubs must be single-piece steel, other alloys not allowed.
Add Section 721.23.2 Clutch claim rule – Per standard sanctioning body guidelines, claiming can be implemented, Maximum of $160.00.
Any questions regarding Section 721 changes, please contact Mr. George Shear at 405-799-9204.
15 February 2018
Section 850.1 2 Cycle Sprint Regional Classes
IAME Cup – Change to read: Details are in Section 676
IAME Cup Junior – Change to read: Details are in Section 676
IKF TAG – Change to read: Details are in Section 676
11 April 2018
721.11 : Head Gasket
Unaltered B&S part #555723 is the only head gasket allowed.
Minimum thickness allowed is .047″. Measurement must be performed using a micrometer. Readings are taken from inside the cylinder hole of the gasket closest to the combustion chamber (see diagram). Four measurements are to be taken in the four defined quadrants with 3 meeting the minimum thickness of .047".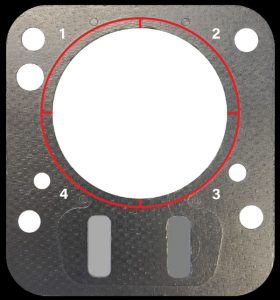 TECHNICAL BULLETINS
Note: These PDF's are to determine basic component dimensions and weights not posted in Section 675 Chart. In the event of conflicting specifications the Section 675 Chart's specifications take precedence.
(05-07-09) TAG LEOPARD ENGINE SPECIFICATIONS
(06-02-09) GAZELLE 60CC ENGINE SPECIFICATIONS
(07-06-09) ROKTT ENGINE SPECIFICATIONS
(07-14-09) GAZELLE AND MINI-SWIFT PISTONS INFORMATION
(10-08-09) TAG PRD ENGINE SPECIFICATIONS
(12-17-09) TAG MOTORI 7 ENGINE SPECIFICATIONS
(03-28-11) TAG MY09 LEOPARD ENGINE SPECIFICATIONS
(01-23-14) PRD CONTROLLED UPDATES (TECH BULLETINS 18,19, 20)
(02-12-14) PARILLA X30 125CC RL-C TAG
(01-27-15) 2015 PRD 125CC CONTROLLED TAG RULES & ADDENDUMS
(02-25-15) 2015 PRD 125CC CONTROLLED TAG RULES & ADDENDUMS REVISED
(04-06-16) 2016 X125T 125CC TAG TECHNICAL INFORMATION
(05-24-16) 2016 IKF WING KART RULES
(02-24-17) 2017 CHEST PROTECTORS / HELMETS
(02-27-17) BRIGGS AND STRATTON 206 / ANIMAL / M-SERIES / WORLD FORMULA AIR INLET CHAMFER CLARIFICATION
(08-15-17) BRIGGS AND STRATTON CLUTCH RULE UPDATE
Note: These PDF's are for Honda Kid Kart Rules and Updates