The 2019 Sprint GrandNationals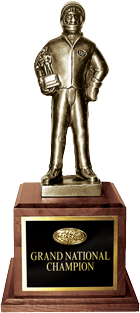 The 'Duffy' is the most prestigious trophy in grassroots kart racing, and once a year the International Kart Federation holds its annual IKF Sprint GrandNationals. The names who call themselves Duffy winners are a who's who of motorsports and the distinction of being an IKF national champion solidifies any racer's legacy in the sport.
When:  September 20-22, 2019
Where:  Pat's Acres Racing Complex
PRE-REG Now Closed.  See schedule above for Registration Desk hours for walkups.
Event Format
Friday – Practice, ending the day with Qualifying.
Saturday – Morning Warm-Up and 3 Heats.
[Progressive]  You will start each heat based on previous finish, post penalties and tech.
Sunday – Morning Warm-Up and Finals
You will start the final based on finish in Heat 3, post penalties and tech.
Pre-Event Practice
Due to the construction there will be no practice on the track prior to our event which starts on Friday.  Specifically, no practice will be offered on Thursday.
Pat's Acres has decided to host a Thursday practice despite our input. It's only fair that we mention it so that everyone has an opportunity to attend. Our apologies in advance for those that booked travel with the understanding there wasn't going to be such a practice.
Our intent was to help limit travel and testing expenses and more importantly, time off from school and work.
The practice will be 9-5pm for $75 and a membership is not required.
Pricing
$475 – Race Entry with (1) Set of Evinco Race Tires.
Classes on Blues required to use (1) Set for duration of event (competition sessions).
Classes on Reds have the option of adding another set.

Can purchase 2nd set during Pre-Reg for $200
Can purchase 2nd set onsite for retail $222
$25 – Transponder Rental
$50 – Walk-Up Fee
Spectator Pricing
$35 – Event Pass
$25 – 2 Day Pit Pass
$15 – 1 Day Pit Pass
Race Classes
KA100 Junior (11-15*)

IAME KA100 / 320 lbs  +22mm Factory Header
Rok VLR / 320 lbs +Factory Headerz
Evinco Blue (7.10 R)
#800-899

KA100 Senior (14+)

IAME KA100 / 360 lbs
Rok VLR / 360 lbs
Evinco Blue (7.10 R)
#900-999
LO206 Cadet (8-12*)

Briggs LO206 / 240 lbs Blue Slide
Evinco Blue
#200-299

LO206 Junior (12-15*)

Briggs LO206 / 310 lbs Black Slide
Evinco Blue (6.0 R)
#400-499
LO206 Senior (14+)

Briggs LO206 / 360 lbs
Evinco Blue (6.0 R)
#600-699

LO206 Master** (30+)

Briggs LO206 / 390 lbs
Evinco Blue (6.0 R)
#800-899
TaG Light (15+)

IAME X30 / 365 lbs
PRD Galaxy / 350 lbs
Rotax Evo / 375 lbs
RoK GP / 380 lbs
Leopard / 360 lbs
Evinco Red
#300-399

TaG Heavy (15+)

IAME X30 / 395 lbs
PRD Galaxy / 380 lbs
Rotax Evo / 405 lbs
RoK GP / 410 lbs
Leopard / 390 lbs
Evinco Red
#500-599
Shifter (15+)

Stock Moto Honda '99 & '01 / 395 lbs
Stock older TM TaG ICC & Cross / 395 lbs
ROK / 405 lbs
KZ/ICC / 415 lbs
Modified Honda / 405 lbs
IAME 175cc / 415 lbs
SGM / 415 lbs
Evinco Red
#100-199

World Formula Master (45+)

WF / 390lbs
Evinco Blue (6.0 R)
#700-799
You will pick your race number from the available list of kart numbers in each class when you enter.  All karts must be number compliant.
*All drivers 12yo and under must wear a Neck brace & SFI-approved chest protector.

Race Fuel
LO206, Rotax: Pump gas to be purchased PARC Acre's.
All other 2-stroke classes: VP C12 or K&S 110 with Motul 2T .  Can bring your own but C12 will be available from PARC.
Use of unauthorized/specified fuel or oil will result in exclusion from event with no appeal. Fuel tests may be conducted at any time during event. Failure to provide a requested sample will result in immediate exclusion from event with no recourse.
Tire Information
ALL event tires are Evinco.
Classes running BLUE must use same tires for duration of event (competition sesssions).
Classes running RED may use new tires on second day, but it is not required.
Rain tires must be MG only.
Event Sponsors

RLV USA will be providing product to all single speed competitors at this event.  You will be given a voucher during registration that you can then redeem at the RLV desk on site for product.
4 Cycle competitors will receive a free Chain and Engine Oil
2 Cycle (single speed) competitors will receive a free Chain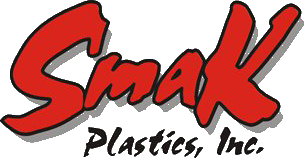 Jon Smalley of SmaK Plastics Inc has graciously donated (2) of their 165 Fish Box Coolers that we will raffle off during Podiums to all competitors.   Jon's kids are also racing the Grands!
Pitting & Camping
Pit spaces and camping can be reserved by contacting Dalton@patsacres.com at the following pricing.  Please note the facility is currently under construction so some details are yet to be determined.  Pitting can start as early as Weds.
$100 pit spaces on asphalt real close to the grid
$75 pit space on asphalt around the last turn
$50 pit spots on the grass in the pits up above
$35 pit spots in the grass down in the lower field
$20 per RV/Camper
Free camping in your trailer or tent
Pat's Acres
Pat's Acres Racing Complex (PARC) was built in the 1930's by Pat Sabin as a spot for his employees to enjoy with their families. The Pavillion started out as a music hall that hosted big names like the Mama's & Papa's, Paul Revere & the Raiders and Eric Clapton. Then, in 1967, Harry Hegar installed a little over a half mile paved sprint track. Pat's Acres has hosted some of the biggest karting races in North America through the 1990's and early 2000's which created the opportunity to add a 'long track' section, extending the full course to just under a mile long.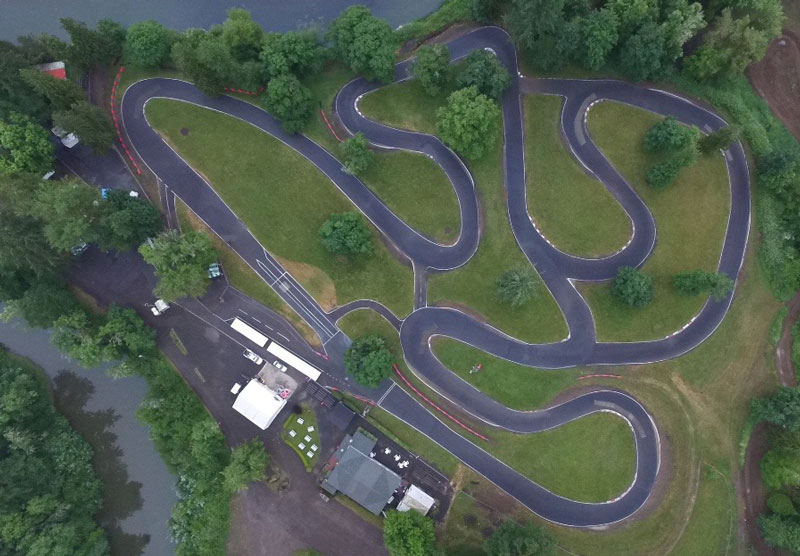 2018 IKF GrandNationals Highlights
IKF SPRINT GRAND NATIONALS TRAILER from Teddie Blake on Vimeo.